The Rooms
Olds Boarding House is a five bedroom boarding house for adults and college students. There are 2 full bathrooms, 1 kitchen, 1 living room and 1 laundry room- each of these areas as well as the 2 outside entrances are at ground level. There are no stairs to be found at the Olds Boarding House.
The Bedrooms
Each bedroom has a large sliding window, 3 rooms have an eastern exposure, 1 has a western exposure and 1 window faces north. Rooms are completely furnished with a bed, dresser, night table and desk. The rooms each have a TV connection and a TV modem/box can be rented for an additional $15 per month giving you access to movies and a myriad of TV channels in your room. (See House Rules page) We also supply and launder all linens and change bedding 3 times per month. Each bedroom has a separate fire alarm, its own key and is approximately 10x11 with an ample closet.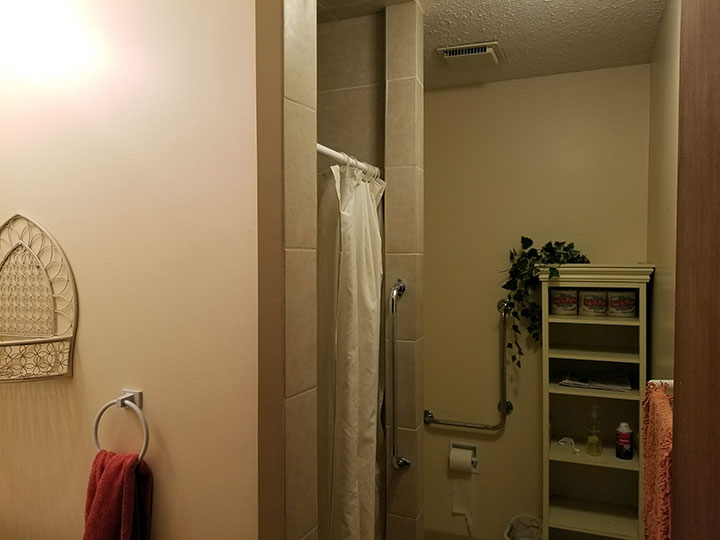 The Bathrooms
There are 2 full bathrooms with ample walk-in showers complete with safety rails. The toilets are also equipped with safety rails.
The Kitchen
The kitchen is for the convenience and use of all residents and is fully equipped with pots and pans, cutlery and dishes as well as storage items. There is a commercial refrigerator with separate shelves for each resident and 5 separate locking pantries as well as a sanitizing dishwasher, chest freezer and electric stove.
The Living Room
This furnished common area is for the use of all residents. There is a television with DVD player and a selection of movies. Feel free to play cards, do a puzzle or watch a movie.
The Laundry Room
The only area that is shared between the caretakers and the residents, the laundry room is available weekends and physically joins the boarding house with the primary residence.